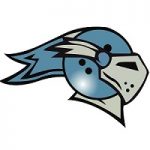 The 2018 AlumKnights Bowling for Scholarships Tournament will be held Sunday, September 16, 2018 at Skidmore's Holiday Bowl, 7515 Lomas Blvd NE.
Check-in is at 12:30 pm and bowling starts at 1:00 pm. Entry fees are $25 per person in teams of 4-5 bowlers. To register a team or to sponsor a lane, complete the entry form below.
Event has been postponed. We are no longer accepting Bowling Team registrations at this time.