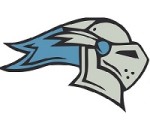 Dear Alumni and Friends of the Del Norte High School Community,
I  am writing you on behalf of the Del Norte HS Alumni Association, the AlumKnights®. Inc. Our organization was founded in 2012 to support the students, staff and teachers at DNHS. Since then we've given over $30,000 in Drawbridge & Skilled Trades scholarships, $50,000 in Dianne Erickson Nursing Scholarships, helped with registration, and supported some 25 plus student programs and events with transportation, volunteers or food. We provide a monthly teacher/staff appreciation "Coffee & Snacks", recruit alumni speakers to talk about their careers, and manage the Brick Garden entry patio engraved paver program.
We are conducting our annual fund drive and respectfully request your consideration and assistance to support these efforts:
Drawbridge Scholarships – These $1,000 scholarships financially assist students during their initial semester before the NM Lottery scholarships are available. They are awarded to deserving students going to any NM college or university.
Skilled Trade Scholarships – These $1,000 scholarships are awarded to students pursuing an associate's degree or attending a trade school to obtain certification in a skilled trade.
Teacher & Staff Support – This provides for various teacher and staff appreciation events.
Student Support – This program helps with refreshments & food for student events, bus transportation assistance, student visits to NM colleges and more.
For information on how you can donate to the AlumKnights, visit our Donation Information page.
We also need volunteers for various school events and activities. Please consider joining us to help.
Thank you for your time and consideration. For more information, please call me at 505-299-5019 or by Email to jsaiers@msn.com.
Sincerely,
Janet Saiers (Class of '66)
President, AlumKnights®, Inc.
AlumKnights®, Inc. is a 501(c)(3) not-for-profit organization. Your donation is tax deductible to the extent allowed by law.