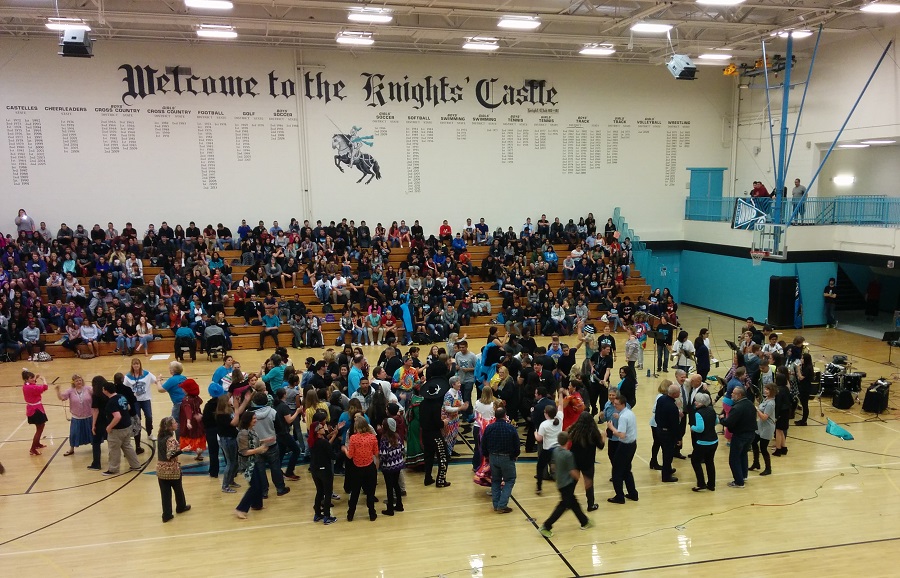 On March 18, 2015 Del Norte High School staff, alumni and students held a 50th Anniversary Assembly. The event was well publicized and many alumni attended even though it started at 8:00 am on a weekday!
The assembly began with a student musical skit featuring the 60s followed by a fashion show with alumni and staff-who-are-alumni marching around with banners, athletic jerseys and letterman jackets. The DNHS Choir sang "Oh What a Knight".
The 70's was represented by music from the DN Orchestra and a 70's fashion show. This led to a flash mob with staff and alumni on the gym floor and mobing it up to Kool & the Gang's "Celebration" !
There was a performance by the DN ROTC followed by a presentation of Del Norte and alumni achievements by Emcee Heath Weihe. A performance by the DN Guitar class preceed the wonderful Ballet Folklorico featuring DNHS alumni under Senora Alarid's direction.
The 80's and 90's fashion shows were accompanied by the DN Staff Band and Powder Puffs. The DN Band closed the assembly with the DN Fight Song. A good time was had by all!