Thanks for visiting the official web site for the DNHS Alumni Association, known as the AlumKnights®. Our vision is to use alumni resources and experiences to help improve Del Norte High School for current and future students. We are actively looking for Del Norte graduates who can help us achieve that vision. To better understand us, please visit our About page and read the article "Helping Hands" by Hailey Heinz of the Albuquerque Journal who interviewed some of our founders. You can also view DNHS Alumni who have made the news in our Knights in the News section or sign up for our email list. For DNHS reunion information, visit the DNHS Alumni Web Site Reunion Page.
AlumKnights® Awards $38,000 in Scholarships
The Del Norte AlumKnights, announces individual scholarship awards of $1,000 to seven students in the class of 2018 and three incentive scholarships valued at $10,000 each. Three students will receive the Diane Riley Erickson Nursing Scholarship. They are Dajia Greathouse, Gissely Reyes Contreras and Karen Ly. In college year one, the student receives $1,000 followed by increasing amounts in their college years two, three and four. The scholarship honors 1966 graduate Diane Riley Erickson who worked at numerous area hospitals. The six students receiving the $1,000 Drawbridge to Success Scholarship will attend a New Mexico two or four year college. Funds for two of this year's awards were to honor long-time Del Norte teacher, coach and administrator Frank Love. The students are: Chase Latimore, Byamungu Fazili, Abdul Jawad Popal, David Sanchez Martinez, Alicia Ruple and Diego Vallenilla. The $1,000 Skilled Trades Scholarship is for students studying for trade careers including
plumber, electrician, auto mechanic, and culinary. Christina Chavez  was awarded this scholarship. For more information about our scholarship program see our Scholarship Information page.
Support the AlumKnights®!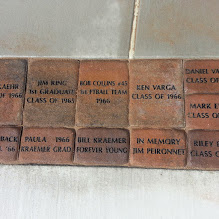 To help support our organization and to raise funds for our annual "Drawbridge to Success" scholarship, please consider a donation or participating in one of our fundraisers such as our Brick Garden Fundraiser. Leave your mark on the new DNHS and purchase a custom personalized brick to show your Knight pride. Bricks are available for purchase for either $50 (6″ x 9″) or $100 (11″ x 9″). All bricks purchased will be randomly placed throughout the new DNHS courtyard. Simply complete the brick fundraiser order form and mail it in with your payment or you can order online through PayPal and you don't need a PayPal account! For more information, visit our Support the AlumKnights page.
Donate to the AlumKnights Through AmazonSmile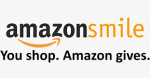 You can now register with AmazonSmile to support the AlumKnights! You only have to register once, but in the future, whenever you purchase from Amazon, make sure you access the site through smile.amazon.com/ch/47-1665246 and Amazon donates to the Alumknights!
2017 Dine-to-Donate at Sadie's on Academy
The AlumKnights 4th Annual Dine-to-Donate fundraiser was held at Sadie's on Academy on November 14, 2017. A portion of the proceeds from diners who presented an AlumKnights flyer was applied to the AlumKnights Scholarship fund. The flyer worked all day. During the fundraiser, the Del Norte Class of 1967 presented a $150 scholarship check to the members of the AlumKnights Board of Directors. The event raised $700 for the scholarship fund.
2017 Pageant of Bands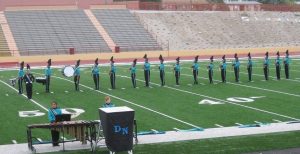 For the fifth straight year, the AlumKnights supplied volunteers in support of the DNHS band's participation in the New Mexico Pageant of Bands (POB) marching band competition on Saturday, October 21, 2017 at Wilson Stadium. AlumKnight volunteers included Marti Bass, Nancy Bennett, Terri Christiansen and Dan Jones. The Del Norte Band is one of the ten APS POB Member Bands that produce this all-volunteer event that attracted 26 bands and 1,800 band members from across the state. A portion of the proceeds are disbursed to the POB Member Bands based on volunteer participation. Last year, the DNHS band received about $600 in this disbursement. This year, the Phantom Knight Marching Band won 2nd place overall for Class A Bands at the Pageant of the Bands competition as well as People's Choice! Way to go Knights!
Fall 2017 Brick Garden Installation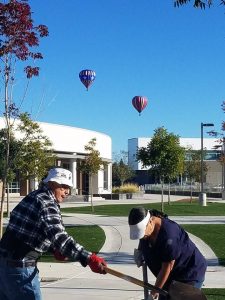 Balloons were in the air during the October 7, 2017 AlumKnights Brick Garden installation. Ken Varga again led volunteers Marti Bass, Lewis Bejcek, Nancy Bennett, Terri Christiansen, Angelo Gonzales, and Dan Jones. There were also at four alumni from the class of 1972 to help out. Thanks to the class of 72 for all the brick donations!
Purchase Bricks for the AlumKnights Brick Garden and support the AlumKnights Scholarship Fund!
Ballet Folklórico Del Norte Alumni Performance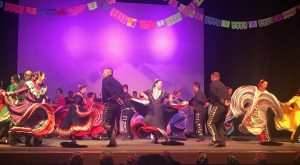 Señora Alarid's Del Norte High School Alumni Folklórico troupe performed to a full house on September 8, 2017 at the Del Norte High School Performing Arts Center (PAC). Mariachi Tierra Del Encanto provided wonderful live music for the alumni dancers and their families. The event was a fundraiser for the AlumKnights© Scholarship Fund. Net proceeds from the event were $2,819.06.