The DNHS Marching Band will be participating in the NM Pageant of Bands competition taking place Saturday, October 21, 2017 at Wilson Stadium in Albuquerque. The band is the first to perform at 8:30 am and needs an audience! The Pageant begins at 8:15 am and ticket prices at the gate are  $10 for adults, $7 for high school and college students as well as seniors and military. Free admission for middle school and younger. Please come out to support the Del Norte Band!
The DNHS Marching Band needs a few more volunteers to fulfill their obligation to the NM Pageant of Bands competition. Volunteer shifts needed for Del Norte include 1:30-3:45 pm and 3:30-5:30 pm. If you are interested in helping out, contact Kristin Maddox at maddox@q.com.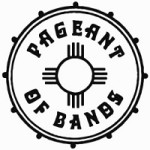 The NM Pageant of Bands is an annual state-wide marching band competition produced by volunteers from high schools in Albuquerque. In return, member bands  receive a portion of the proceeds based on volunteer participation. Last year the disbursement to the Del Norte Band was $600 thanks in part to the support of the AlumKnights!