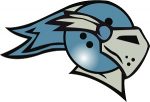 The Annual Del Norte AlumKnights® Bowling for Scholarships Fundraiser is an opportunity to have fun with family and friends while supporting our Del Norte Scholarship programs.
The 2019 AlumKnights Bowling for Scholarships Fundraiser will be held Sunday, March 3,2019 at Skidmore's Holiday Bowl, 7515 Lomas Blvd NE.
Check in is at 12:30pm; Bowling starts at 1:00pm
Entry Fees: Bowling teams ‐ $25 per person
(Teams consist of 5 bowlers which includes one Air Force JROTC student)
Please sign up before 2/17 in order for us to determine how many lanes we will need.
To enter, Download the 2019 Bowling Fundraiser Registration Form and mail with a check payable to AlumKnights, Inc., to: AlumKnights, Inc., P.O. Box 93056, Albuquerque, NM 87199.
Alternatively, you can enter the online registration form below and submit. Once you submit, you will be directed to PayPal. You do not need a PayPal account, you can pay the registration fee with just a credit card. Please note that your registration is not complete until your payment is processed.
2019 Bowling Fundraiser Online Registration Form
We are no longer accepting Bowling Team registrations at this time.
The Bowling for Scholarships Tournament is Generously sponsored by Plant World, Inc.